GATE 2024 New Syllabus PDF has been released on official website @gate2024.iisc.ac.in by Indian Institute of Science (IISc) Bengaluru for 30 Engineering streams. The GATE 2024 Syllabus prescribed for the online exam to be held on 3rd, 4th, 10th and 11th February is explained here precisely. Notably, the GATE 2024 exam has introduced another subject, Data Science and Artificial Intelligence, which presents a significant opportunity for individuals seeking a career in this dynamic field. Engineering Graduates should download GATE 2024 Syllabus PDF now and start preparing effectively.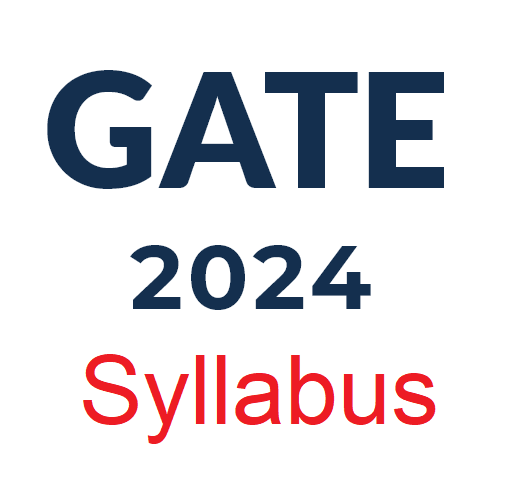 GATE 2024 New Syllabus PDF
Graduates who aspire to excel in GATE Examination 2024 are strongly advised to start their preparation with GATE Syllabus 2024. GATE New Syllabus PDF can be effectively used to structure a well-organized study plan. This approach ensures that candidates are quickly on the path of preparation, enabling them to adopt a focused and productive strategy in their pursuit of success in the GATE 2024 exam.
GATE New Syllabus 2024
GATE or Graduate Aptitude Test in Engineering is one of the most prestigious national engineering entrance exams which are taken every year by aspirants for multiple opportunities to get M. Tech admission in various IITs, NITs and State Universities or PSU recruitments.
GATE 2024 exam will be held in February 2024 for total number of 30 papers. Aspirants who are going to appear for the exam should read this article for a deep insight into GATE New Syllabus 2024.
Here in this article we have covered the detailed GATE New Syllabus 2024 of each engineering and science branch. Get discipline wise GATE Syllabus 2024 PDF here and bookmark this site for more engineering exam updates.
GATE 2024 Syllabus
The Graduate Aptitude Test for Engineering is a standardized test to assess engineering ability, logical ability and conceptual understanding in a specific field. GATE Syllabus 2024 helps the aspirants to make a preparation plan to ace the exam with a good score. To improve the preparation of GATE 2024 exam aspirants, we have provided the latest GATE 2024 syllabus for all subjects in this article.
Aspirants who are preparing for GATE 2024 exam must refer this article for detailed GATE 2024 syllabus and some basic information about GATE 2024 exam is given below in tabular form.
GATE 2024 Syllabus Overview
GATE Full Form Graduate Aptitude Test for Engineering (GATE)
GATE Conductor Authority IISc Bangalore
GATE 2024 Total Posts 30 (Added Data Science and Artificial Intelligence)
GATE 2024 Initial Application Start Date
GATE 2024 Last Date to Apply 29 September 2023 (No Late Fees)
Computerized Exam Mode Test (CBT)
Number of questions asked 65
GATE 2024 Marks Distribution 100 Marks[ 15 General Aptitude + 85 Subject Questions]
GATE Exam Language English
GATE 2024 Marking Scheme One Mark and Two Marks
GATE 2024 Syllabus is now available
Negative marking Yes (for MCQs and MSQs)
GATE 2024 Syllabus Official Website https://gate2024.iisc.ac.in/.
GATE 2024 Syllabus PDF
Aspirants who are preparing for GATE exam must be familiar with GATE 2024 Syllabus PDF to understand well the difficulty level of the exam and the weightage of all the sections. GATE 2024 exam can be cracked only with proper guidance and hard work. So check out the topic wise GATE 2024 New Syllabus and start your preparation effectively.
GATE 2024 Syllabus Subject Wise
Candidates preparing for GATE 2024 exam should have information related to following topics important for GATE exam. GATE Syllabus 2024 Subject topics must be mastered properly by those aspiring to ace the GATE exam this year….
GATE 2024 Syllabus Subject Matters
Discipline Topics
General eligibility (common to all documents)
Verbal ability
Numerical ability
Aeronautical Engineering
Engineering mathematics
Flight mechanics
Cosmic dynamics
Aerodynamics
Structures
Drive
Agrotechnics
Engineering mathematics
Agricultural machinery
Farm Power
Soil and Water Conservation Engineering
Irrigation and drainage engineering
Agricultural Process Engineering
Dairy and Food Engineering
Architecture and planning
Architecture, planning and design
Construction and management
Environmental planning and design
Urban design, landscape and conservation
The planning process
Housing
Services and infrastructure
Architecture
Planning
Biomedical Engineering
Engineering mathematics
Electrical circuits
Signals and systems
Analog and digital electronics
Measuring and control systems
Sensors and bioinstrumentation
Human anatomy and physiology
Medical imaging systems
Biomechanics
Biomaterials
Biotechnology
Engineering mathematics
General Biology
Genetics, cell and molecular biology
Fundamentals of biological engineering
Bioprocess engineering and process biotechnology
Plant, animal and microbial biotechnology
Recombinant DNA technology and other tools in biotechnology
Civil engineering
Engineering mathematics
Earth engineering
Geotechnical Engineering
Water Resources Engineering
Environmental Engineering
Traffic engineering
Geomatic engineering
Chemical Engineering
Engineering mathematics
Process calculations and thermodynamics
Fluid mechanics and mechanical operations
Heat transfer
Mass transfer
Chemical reaction engineering
Instrumentation and process control
Plant design and economics
Chemical technology
Computer Science and Information Technology
Engineering mathematics
Digital logic
Computer organization and architecture
Programming and data structures
Algorithms
Theory of computation
Compiler design
Operating system
Database
Computer networks
Chemistry
Physical chemistry
Inorganic chemistry
Organic chemistry
Electronics and Communication Engineering
Engineering mathematics
Networks, Signals and Systems
Electronic devices
Analog circuits
Digital circuits
Control systems
communication
Electromagnetics
Electrotechnics
Engineering mathematics
Electrical circuits
Electromagnetic fields
Signals and systems
Electric machines
Energy systems
Control systems
Electrical and electronic measurements
Analog and digital electronics
Power electronics
Environmental Science and Engineering
Mathematical Foundation
Environmental chemistry
Environmental microbiology
Water resources and environmental hydraulics
Water and wastewater treatment and management
Air
Ecology and evolution
Ecology
Development
Mathematics and Quantitative Ecology
Behavioral ecology
Applied Ecology and Evolution
Geomatic engineering
Engineering mathematics and basic geomatics
Surveying and mapping
Image processing and analysis
Geology and geophysics
Common partition
Geology
Geophysics
Instrumentation engineering
Engineering mathematics
Electricity and magnetism
Electrical circuits and machines
Signals and systems
Control systems
Analog electronics
Digital electronics
Measurement
Sensors and industrial instrumentation
Communication and optical instruments
Mathematics
Number
Linear algebra
Comprehensive analysis
Differential equation
Topology and linear programming
Engineering
Engineering mathematics
Applied mechanics and design
Fluid mechanics and thermals
Mining Engineering
Engineering mathematics
Mining geology, mining and geodesy
Geomechanics and ground management
Mining methods and machinery
Surface environment, mine ventilation and underground hazards
Mineral economics, mine planning, systems engineering
Metallurgical Engineering
Engineering mathematics
Metallurgical thermodynamics
Traffic phenomena and speed processes
Mineral processing and mining metallurgy
Physical metallurgy
Mechanical metallurgy
Manufacturing process
Naval architecture and marine engineering
Engineering mathematics
Applied mechanics and structures
Fluid mechanics and marine hydrodynamics
Naval Architecture and Ocean Engineering
Thermodynamics and Marine Engineering
Physics
Mathematical physics
Classic mechanics
Electromagnetic theory
Quantum mechanics
Thermodynamics and statistical physics
Atomic and molecular physics
Physics of solids
Electronics
Nuclear and particle physics
Manufacturing and Industrial Engineering
Engineering mathematics
General engineering
Production processes I
Production processes II
Quality and reliability
Industrial engineering
Operational research and operational management
Petroleum Engineering
Linear algebra
Number
Differential equation
Complex variables
Probability and Statistics
Numerical methods
Oil exploration
Oil and gas well drilling technology
Reservoir engineering
Oil production operations
Offshore drilling and production processes
Assessment of oil formation
Oil and gas well testing
Health safety and the environment in the oil industry
Improved oil recovery techniques
Latest trends in petroleum engineering
Textile Engineering and Fiber Science
Engineering mathematics
Textile fiber
Yarn production, yarn structure and properties
Production, structure and properties of substances
Chemical processing
Statistics
Number
Matrix theory
Probability
Standard discrete and continuous univariate distributions
Stochastic processes
Estimate
Hypothesis testing
Non-parametric statistics
Multivariate analysis
Regression analysis
GATE General Aptitude Syllabus 2024
In the GATE exam, a total of 15 marks are given to the General Aptitude section, which consists of Reasoning, Quantitative Aptitude and English questions. Candidates can download GATE General Aptitude Syllabus 2024 through the link given below.
GATE 2024 Exam Pattern
Familiarizing yourself with GATE Exam Pattern 2024 is an essential step before diving into the preparation of GATE 2024. This pattern includes a diverse set of question formats, totaling 65 questions. These formats include multiple choice questions (MCQs), multiple choice questions (MSQs) and numerical answer types (NATs), which offer a comprehensive assessment of your knowledge and problem-solving skills. When solving these questions, you will have a dedicated time window of 3 hours to review and provide answers, ensuring a fast and focused approach to the exam.
GATE 2024 Exam Pattern
In GATE 2024 exam each question will be 1 mark and 2 marks total 100 marks. Eligible candidates should check the GATE 2024 Exam Pattern to understand the exam briefly by knowing the number of questions, complete marks etc.
GATE 2024 Exam Pattern
Details Details
GATE 2024 Mode of Examination Computer Based Test (CBT)
GATE 2024 Total Duration 3 Hours (180 Minutes)
GATE 2024 Total Subjects (Posts) 30
GATE 2024 Exam Section
General eligibility (GA)
Discipline specified by candidate
GATE 2024 Question Type
Multiple Choice Questions (MCQs)
Multiple Choice Questions (MSQ)
Numerical Answer Type (NAT) questions.
GATE 2024 Number of Questions 10 (GA) + 55 (Subject) = 65 Questions
GATE 2024 Marks Distribution in All Papers except AR, CY, DA, EY, GG, MA, PH, ST, XH and XL Papers
General eligibility: 15 points
Engineering mathematics: 13 points
Subject questions: 72 points
Total: 100 marks
GATE 2024 Marks Distribution in AR, CY, DA, EY, GG, MA, PH, ST, XH and XL Papers
General eligibility: 15 points
Subject questions: 85 points
Total: 100 marks
GATE 2024 marking scheme questions carry 1 mark and 2 marks respectively.
GATE 2024 Negative marking
There will be NO negative marking for wrong answers selected in MCQs.
For MCQs of 1 mark, 1/3 mark will be deducted for wrong answer.
In case of MCQs of 2 marks, 2/3 marks will be deducted for wrong answer
There will be NO negative marking for NAT type questions.
There is no partial marking in MSQ.
GATE 2024 Syllabus for all subjects
The Indian Institute of Science (IISc) Bengaluru is hosting the GATE 2024 exam this year in February 2024 for 30 subjects. Candidates who have a degree in Engineering/Science and are going to appear for the Engineering 2024 Graduate Eligibility Test should be well aware of the new GATE 2024 Syllabus.
GATE 2024 Syllabus for all subjects is given in this article so no need to visit official website again and again. Check the official changes as per GATE 2024 New Syllabus for All Subjects PDF including General Aptitude mentioned above. Applicants should check the new GATE Syllabus 2024 thoroughly and prepare effectively for the computer based test….
Official Website Click Here
Today Jobs Update Click here